OFFER LETTERS to go out by July 10th. Please respond by July 22nd.
If you missed our Evaluations, we still may space for your player. Please email us ASAP.
Questions please email us at: [email protected]
---
We are holding  EVALUATIONS for ACADEMY Players at Polonia !
U7 – U10 Players: Come see our fields and meet our Coaches!  Join us for this open session free of charge to see what Polonia is all about.   We'll have folks there to help answer any questions you might have.  Open to CURRENT and NEW potential players with birth years ( 2011, 2012, 2013, & 2014).
DAYS:   Mon, Tues, Wed, & Thurs
DATE:  June 29th, 30th, July 1st, & 2nd
TIME:  4:15pm – 8:30pm – see chart below (attend within the time range indicated for your players birth year. if you show up after the start time, no worries )
LOCATION:  Polonia Soccer Club: 10200 W. Loomis Rd, Franklin (Hwy 100 & Loomis)
COST:  FREE
WHAT TO DO:  Please Pre-Register for "Evaluations" for no charge.  This helps a great deal for staffing and coaches.
Sign Up: Click here to Sign Up ONLINE
Or else bring a filled out copy of the:   Medical Release Form  and the Covid-19 Waiver and give to the check in person.
WHAT TO WEAR / BRING:  Wear your practice attire, with shin guards, long socks, cleats.  Bring a soccer ball and water bottle!!
If you want to sign up for Fall, please attend at least one of these sessions!
If the scheduled days and times don't work for you, please email us and we'll set up something else for you.  [email protected]
U11 and up Players: Please attend the official "Tryouts" to be placed on a Fall team.   Details under EVENTS in the "Tryout Tab" on this website.
U6 Players: Online registration is now OPEN for all U6 players (2015 birth years).  Use the same Registration link to register your U6 player.
Hope to see you then!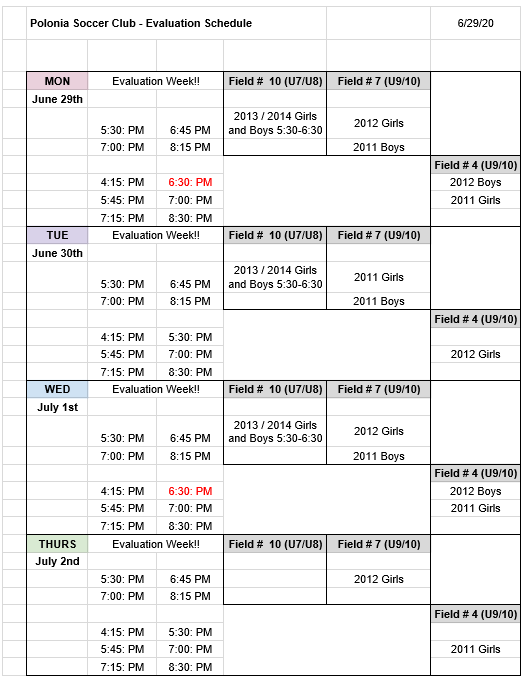 Updated 6/29/20