TRYOUTS are STILL ON today Wednesday June 12th as scheduled.  However, they will be shortened do to the weather.  Please stick around in case of heavy rains.
Note:  the covered Beer Garden is OPEN at 5:30pm with food and beverages.  Sitting also available inside.  Come stay dry and socialize!
————————————————————————-
Per Wisconsin Youth Soccer Association rules, we are holding TRYOUTS for Fall 2019 – Spring 2020 season in the month of June for all players U11 – U19.
Come tryout for one of our Select, State or Regional (US Youth National) level Teams. We'll answer any questions that you have about our Club, Teams, Costs, etc..
Tryout Dates:
June 10th week for U11 – U14 players
June 17th week for U15 – U19 players
Tryout Schedule: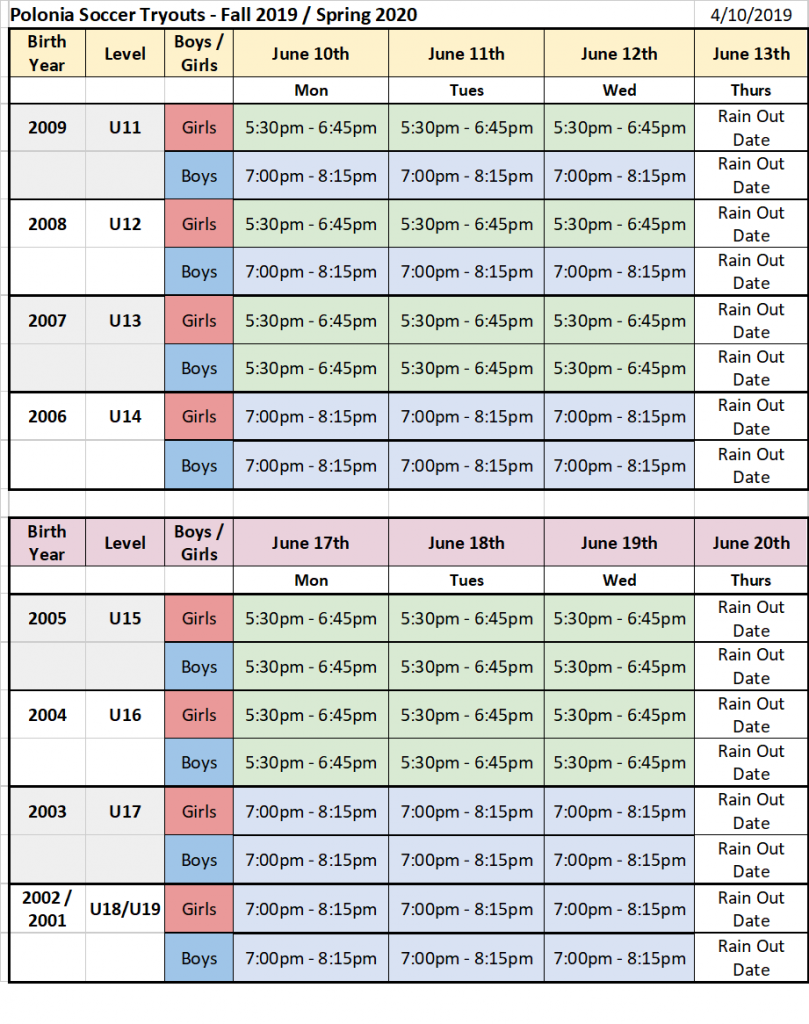 Who: All existing and new players must attend at minimum of (2) tryout dates to be selected for our top SELECT, STATE or REGIONAL teams.
Location: Polonia Soccer Club: 10200 W. Loomis Rd, Franklin (Hwy 100 & Loomis)
Fall U7 – U10 players (2010 – 2013): We will have Evaluations in June to sign up players. Details will be posted soon under "Evaluations" tab.
U6 Players (2014) are able to sign up now!
Fee: Sign up now for TRYOUTS online for $30. Includes and a nice Tryout Shirt.
If you don't Pre-Register Online: then please bring a filled out copy of the WYSA Medical Release Form (link) include your EMAIL and $30 for your Tryout Shirt. Cash or check to : Polonia
What to Do / Bring: Attend as many tryout dates as possible. Check in on your first day only. Have your email registration confirmation handy just in case you are not on the list to receive your Tryout Shirt. Wear your tryout shirt each time you attend. Wear normal practice attire, ball, shin guards, cleats, water bottle. Reminder, minimum of (2) days attendance is required to be considered for our top Select, State or MRL teams.
Arrival: Please arrive 15 – 30 min before your scheduled start time to check in, or pay and receive your Tryout Shirt. Check in location is in the Club House.
If you Pre-registered but need your Tryout Shirt, please check in.
If you Pre-registered and have already received your Tryout Shirt, please head directly to the fields. No daily check in required.
Look for players with your same color jersey to find your Tryout field.  Jersey colors mostly sorted by birth year.  (Note U11 and U14 are both red)
———————————————————————————–
AFTER Tryouts / Team Notifications:
U11-U14 players will begin to receive offers on Friday, June 14th after 12pm.
U15 and up will begin to receive offers on Friday, June 21st after 12pm.
Directions for acceptance will be provided in the email.
You will receive an email from us offering a position on a team, not offering a position, or offering to place your player on a waiting list.
Upon acceptance of an offer, you will receive a Player INVITE to complete online registration. Instructions will be in the offer letter.
———————————————————————————–
Note: Pre-registering for Tryouts online does not in any way obligate you to sign up with our Club.